Details
Exceptional Quality, Outstanding Product Reliability, Fast Printing and Dependable Durability. Mitsubishi Electric's CP-D90DW full-featured event photo printer is a quick, lightweight professional photo printer with a space-saving single deck design.

FEATURES:

• Print Speeds: 4x6" in 7.8 seconds* | 5x7" in 13.2 | 6x8" in 14.6sec | 3.5x5" in 8.4sec
• 3 Year Mitsubishi Warranty
• Print Sizes: 2x6", 3.5x5", 4x6", 5x7", 6x6", & 6x8"
• Print (4) Sizes from 6x8" Roll: 2x6", 4x6", 6x6" & 6x8" full bleed (also bordered 5x7" & 3.5x5")
• Ink rewind & ROl back function: Maximize media usage by reducing waste
• 300dpi in Glossy or Matte Finish
• 128MB Volatile Memory!
• Supports: Win7-10 and OSX10.6-10.11
---
The New Mitsubishi CP-D90DW is the best printer Mitsubishi Electric has ever designed for Photo booths and Event Photographers. At 155 square inches, its compact footprint makes it fit installations of many kinds. Equipped with versatile connectivity options, small, low-powered devices and computers like a Stick PC, tablets or mobile phones with the appropriate controlling apps can easily be powered and used to control the CP-D90DW printer, providing options such as wireless printing, building a cost-efficient print station, etc. through the connected devices. Jam-packed with features like built-in image processor, auto image-optimizers and a rewind feature that enables users to print multiple print sizes from just one roll of media, the CP-D90DW printer would be a great workhorse for your photo booth or event printing needs.
System Flexibility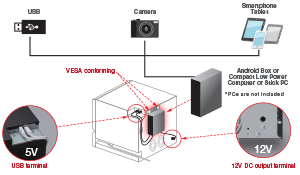 The CP-D90DW is equipped with 2 power ports for additional connectivity (DC output terminals: 5V 2A and 12V 2A). Small, low-powered computers like a tablet, stick PC, or mobile devices can easily be powered through one of two ports directly from the printer, supporting a broader range of possible applications such as wireless printing, helping build a cost-efficient printing station more easily.
Compact
With a footprint of 14.4"(W) x 9.36"(H) x 10.8"(D) the new, compact design of the CPD90DW strategically minimizes protruding and hanging cables for a neat, space-saving installation. This is one of the world's smallest dye sub printer footprints (82% smaller than the CPD70DW), providing overall space and cost savings in every system installation you can imagine.
Enhanced Rewind Function
The new rewind function featured with the CP-D90DW offers cost savings to maximize media usage, and better work-flow efficiency that minimize impact on print speed, while giving users the convenience of printing multiple size photographs using only one single type of media.
Outstanding Print Quality
Mitsubishi Electric's CP-D90DW comes with an Image Analyzing Engine built-in to enable faster printing without compromise on image quality. Each image received is built and analyzed within the printer processor with its print density and details analyzed and printed accordingly, yielding the best result with every photo printed. The new, built-in humidity sensor restrains effect of humidity change and brings stable high quality.
Deeper Black

Fast-Printing
The built-in image processor of the CP-D90DW reduces the processing workload of external computers, cutting down the overall initialization time of the first print output of every job it receives.
Automatic Optimization of Printing Speed


The improved thermal head cooling design of the CP-D90DW allows it to print more than 450 4″ x 6″ (102 x 152mm) prints per hour.
Support Multiple Sizes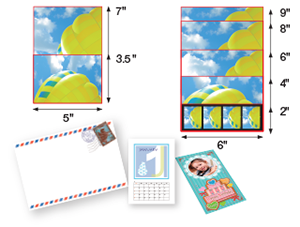 Supports various print sizes using a Software Development Kit for customized applications. More than 2″ (51mm) toward paper feeding direction, 1 dot step.
The CP-D90DW is compatible with all media used by the D70 series printers, as well as a more versatile and cost-efficient paper with higher print counts per roll.
User-friendly
CP-D90DW is designed for ease of use and quick maintenance with front-loading design for media.
Easy Media Loading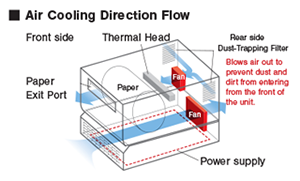 CP-D90DW incorporates a separator design to distribute airflow separately to the power supply and the printing thermal head.The effective air cooling increases the throughput while reducing print contamination.
Functions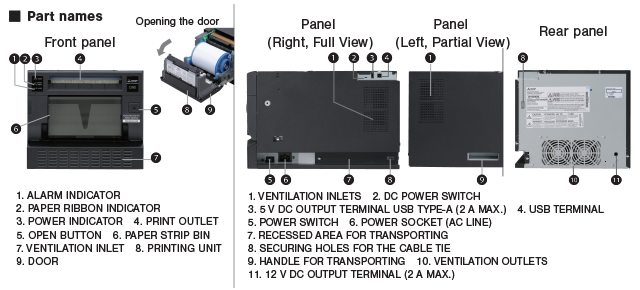 Specifications
Printing

Print Method:

Dye sublimation thermal transfer

Resolution:

Print Speed:

3.5'' x 5'' - Approx. 8.4 sec.* (Fine Mode, Auto Mode - Light Image)




- Approx. 16.8 sec (Auto Mode – Dark Image, Ultra Fine Mode






4'' x 6'' - Approx. 7.8 sec.* (Fine Mode, Auto Mode - Light Image)




- Approx. 16.7 sec (Auto Mode – Dark Image, Ultra Fine Mode






5'' x 7'' - Approx. 13.2 sec.* (Fine Mode, Auto Mode - Light Image)




- Approx. 28.8 sec (Auto Mode – Dark Image, Ultra Fine Mode)






6'' x 8'' - Approx. 14.6 sec.* (Fine Mode, Auto Mode - Light Image)




- Approx. 32.2 sec (Auto Mode – Dark Image, Ultra Fine Mode)

Print Area:

Gradations:

256 per color, 16.7 million colors

Print Format:

3.5 x 5''

4 x 6''

5 x 7''

6 x 8''

Capacity:

Thick-Grade Media (Approx. 230μm) - 3.5'' x 5'' - Approx. 450 prints

Thick-Grade Media (Approx. 230μm) - 4'' x 6'' - Approx. 400 prints

Thick-Grade Media (Approx. 230μm) - 5'' x 7'' - Approx. 230 prints

Thick-Grade Media (Approx. 230μm) - 6'' x 8'' - Approx. 200 prints
General

Buffer Memory:

128MB Volatile Memory for Temporary Retention

Interface:

Driver Software:

Click here for PRINTER DRIVERS

Windows 7 (32-bit)

Windows 7 (64-bit)

Windows 8 (32-bit)

Windows 8 (64-bit)

Windows 10 (32-bit)

Windows 10 (64-bit)

OS X 10.6

OS X 10.7

OS X 10.8

OS X 10.9

OS X 10.10

OS X 10.11

Dimensions:

Approx. 14.4"W x 9.3"H x 10.8"D

Weight:

Approx. 30 lbs. (13.5 kg)

Power Supply:

Power Consumption:

12V / 2.0A max

5V / 2.0A max
You may also be interested in the following product(s)